HD Wave broadcaster, enables its users to instantly stream LIVE in stunning HD without any propriety hardware. The HD Wave Broadcaster is ideal for live web broadcasts: entertainment, sports, business & community events, iPTV and many more.
The HD Wave requires nothing more than an off-the-shelf computer and video source or camera. This software is user-friendly and makes Live Streaming accessible to everybody. It has a clear, simple interface with preset options in order to save your time and help you broadcast the most favorable way possible.
You do not need to invest in expensive proprietary broadcasting solutions when you choose The HD Wave. This application makes it easy for anyone to broadcast streams in HD, up to 60 frames per second, with a simple to use click-and-stream interface. Built on patent-pending technology, The HD Wave delivers stunning High Definition broadcasts at the lowest bit rates possible – 720p feed at only 1.0Mbps or 1080p at 2.5 Mbps.
Professional movie makers, broadcasters and enthusiast alike now have the ability to broadcast their HD media across multiple Web and mobile devices; quickly, easily and without purchasing proprietary hardware: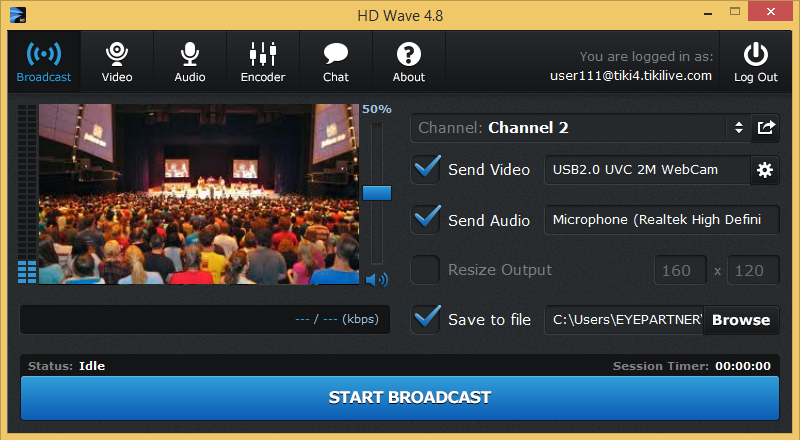 The only HD Broadcaster on market built on video driver technology.
Broadcast desktop view in HD 720p and 1080i using off the shelf PC.
Low usage of PC processor/resources.
Multiple video audio capture including synchronized Skype video calls.
On the fly switching of media sources including partial or full desktop viewing.
Easy to use with a friendly, clear interface.
OEM White label SDK.
Note: in order to use HD Wave (install and run the software) you must have a Windows administrator account type on the PC. You can change the Windows account type from Control Panel – User Account.
For more information on how to install and run HD Wave broadcaster, please read the information presented in this manual chapter:
Note: we reserve the right to change some of the features of the application at any time, in order to improve HD Wave.