Note: this option is available on all themes except for Rock on Responsive theme, starting with TKWP version 2.9.8.

Custom Background page allows you to customize the background of the page either with an image or simply a different color. In order to custom the background image, click on the Background link, under Appearance menu:

Below we exemplified Custom Background options page on City theme: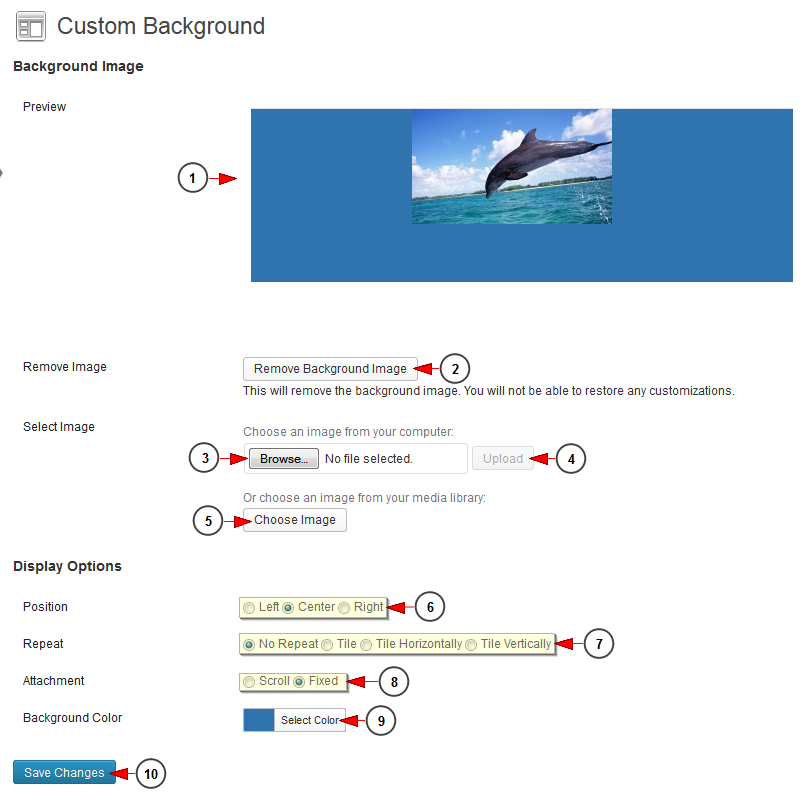 1. In this area you can preview the background image before post it on your web blog.
2. Click here to remove the uploaded background picture.
3. Click this button to browse a picture in your computer.
4. Click here to upload picture.
5. Click here to choose a background image from your media library pictures.
6. Check the radio button according to the display position you prefer: left, center or right.
7. Check the radio button for the repeat image option you prefer: no repeat, tile, tile horizontally, tile vertically.
8. Check the radio button if you want to scroll the background or display it as fixed.
9. Click here to select a background color. The color picker chart will open and you can select the desired color.
10. Click here to save changes.